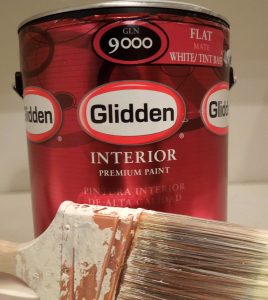 This week we ended up with an unexpected room painting project (long story.)
I have to say that I'm not a great painter.  I'm a marginally competent painter who can get the job done, but it's not my favorite thing to do.
I didn't know that this project would give me an opportunity to be reminded of a timeless truth.  One of my mentors shared with me the law of gestation.  Farmers know that they can't plant today, fertilize and water like mad and harvest tomorrow.  There's a period of time for things to gestate – to grow to maturity.
So what does that have to do with painting?  Or with leadership?
It turns out that the paint that I was using was just about the same color as the original wall color when it was wet, and dries to a darker shade.
What does this mean practically?  It means that it's virtually impossible for me to get the paint on consistently.  Invariably I find that after the paint has dried there are swaths of wall which were almost completely painted, and areas which remain free of the new paint.
And here's the point.  While it is wet, it's not possible to tell where the new paint is (or isn't.)  The only thing to do is wait.
This happens in business, too.  You start to pull a team together.  You give them tools, vision, and work, and then all you can  do is wait for the natural processes to happen.  Just like the farmer you'll need to water, weed and feed the "crop" but you can't rush it.
You just have to wait, just like I did with the paint.  Interestingly enough, when you've equipped your team well, and provided the resources (including time) you can be amazed by the results.
What do you need to wait for right now?
PS – The room (eventually) turned out well.  And I had a great helper in the process!