This morning I was working with a client. The discussion was about "How do I handle a conversation with a difficult customer?"
Have you ever had that problem?
What does it feel like knowing that you need to talk about it, and you can't?
What would it feel like to have that conversation over with?
What would it feel like to have the other person not mad at you at the end of the discussion?
What would it be like at work to partner with them rather than be at odds with them?
This morning's coaching call reminded me that this is a common issue and one that you may be facing, too.
I know I've had tough conversations with customers, partners, team members and bosses. Sometimes I've handled it well.
Other times not so much.
I Really Blew it
I remember a time that I had Jay (a team member) tell me he had made no progress on the work I had assigned him because Alan (MY boss) had told him to work on something else. Of course, Alan still expected me to get results on the stuff that I had originally assigned to Jay.
The more I thought about it, the madder I got. Who did Alan think he was to undermine my authority? Alan and I had previously talked about the fact that I needed Jay to work on this, and we both knew that Jay really didn't want to do it. When Alan approached Jay, it was a clear signal that Jay didn't need to worry about that crummy project that Tom had assigned.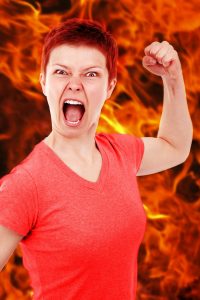 How could he do that? (Alan owned the company, and was used to doing what he wanted, that's how!)
I was frustrated, embarrassed, and I felt completely disrespected. Jay was a new addition to my team (he had previously reported directly to Alan, and did not appreciate the change.) Jay didn't want to work for me, he didn't want the project I assigned to him, and now Alan was telling him to ignore me and focus on the stuff that Alan wanted.
I got on the phone and challenged Alan's having undermined my authority. We shot barbs back and forth a few times, and eventually I was shouting at Alan. The call ended quickly.
Let's go over a quick list of what I did wrong:
I was not "calm and centered." I was MAD!
I did not "slow down and listen" – I was focused on telling Alan exactly how wrong he was and how mad I was.
I didn't "acknowledge his perspective. In fact I didn't care about his point of view.
Here's a great Harvard Business Review article on this topic. I thought you might appreciate it.
For what it's worth, in my conversation with Alan, I think I broke every rule listed in the article.
If you'd like help preparing for a difficult conversation, I can help. (I've learned a thing or two since I worked for Alan, thankfully!)
Give me a call!