"The Story" 
There's been a record snowfall here in Charlotte NC.  We've had several inches, a ton of sleet, and as I write this, it is snowing HARD!
We're expecting another 3-4 inches today.   The whole city has come to a standstill.  My kids are thrilled that they can play in the snow, too.
Action Point:
Today I want to talk about projects and risk.  I took a risk when I moved to Charlotte.  In fact, I left my snow shovels in the house I sold.
Who needs snow shovels in the south?  Did I blow it?
Actually, no!
When you evaluate risks for your project, you need to think of two things:
What is the likelihood of INCIDENCE?  What are the chances that the thing will happen?
What is the IMPACT if it does happen?
In this case, the INCIDENCE is actually low – Charlotte North Carolina almost NEVER sees this kind of snow.
The IMPACT is pretty low, too – Sure, we're "snowed in" for a couple of days, but this snow will be gone soon, and we have everything we need here at the house until the snow melts.
Because the INCIDENCE risk is low, and the IMPACT is acceptable – we chose to ACCEPT the consequences – and shovel with a little shovel.
More Info
For more on this topic, check out this great interview with project risk expert Carl Pritchard
One Final Thought:
What's a project risk you're prepared to accept?
When did you mess up by not having a good risk management plan?  What happened?
Please email me and tell me how it went. tom@BrightHillGroup.com
Cooper News:
Our family is having a blast making snowballs and sliding down the hills.  Here's a shot of my oldest girl catching snowflakes on her tongue.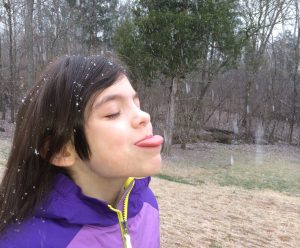 I'm grateful that the kids do a bunch of the work, too!