This is the last in my series of blogs covering leadership lessons from Scout Camp.  I had the opportunity to spend a few days with a fantastic group of young men who are growing up to learn how to be strong leaders and achievers.  It's a beautiful thing.
In Boy Scouts, the adult leaders establish safe boundaries and then let the boys run the activities.  Our vision is to provide a place where boys can "fail safe" – that they can try out new skills, succeed, fail, learn, and try again – but not in a way that endangers them.  The boys organize into smaller groups called patrols and the patrols work together to accomplish the goals for the entire troop.
As leaders, we provide a learning lab for them, and they run experiments in leadership, projects, collaboration, and skills development all while having a GREAT time.  (Mostly.)
This mostly part leads me to the story of David.  David is a young scout.  He's just getting started in learning about collaboration, compromise, and influence.  He's smart – perhaps too smart for his own good.  He's got a LOT to learn about how to influence others.
I can relate.  As a boy I was a bit of an "old soul."  I got along better to adults than I did with my peers.  My interests and vocabulary were different from boys my age.  I was a very strong learner of facts.  Unfortunately that knowledge didn't come with wisdom. I wanted to let others know just how much I knew.  I had a quick and sharp tongue.  If that meant that you ended up looking less competent or more ignorant, well whose fault was that?
I see a lot of those same characteristics in David.  He is capable, and does have a lot to offer.  Unfortunately like many young men, he's also pretty "me focused" and tends to overlook the impact his plans have on others.  Which leads to great frustration and pain.  Apparently it leads to "stupid" patrols, too!
In a moment of significant frustration with his peers, David came to the leaders and announced:
 "My patrol is stupid."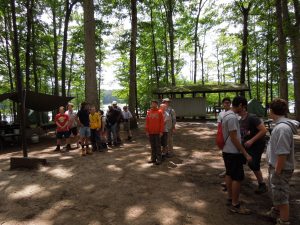 He was really upset with them.   We looked into it and it turned out that David was insisting that everyone do it his way, or not at all.  The other boys in the patrol were willing to work with him, but David refused every other idea.  I think that what David was really saying was "I'm not getting what I want, and I don't know what to do about it, so I'll criticize the other guys."
Let me ask you:
At work, do you deal with anyone who is "just…stupid"?
Is there someone on your team (or another team) who behaves in a way that makes no sense and makes your job harder?
Is there any way you can learn about their interests and needs?
Might there be a way you could compromise with them?
Getting back to David.  He will get there.  Sometimes the most valuable leadership lessons come from the toughest experiences.  I'm confident he has a bright future, even if his current patrol is "stupid."  His leaders are on his side and will help him become the leader that we can see him  become!