Ever find yourself saying things like
"I wish my team could communicate better"
"We often seem to argue more than work together"
"Why can't we perform better?  We have smart people who are committed to their work…"
What if there was a quick way to get your team on the same page?
Hi – my name is Tom Cooper.  Since 2011 I've been an executive coach helping leaders and teams expand their communication, increase respect among team members, improve teamwork, and strengthen leadership.
I work with clients to help them increase team trust and create higher performing teams.
What if there was a FAST way for your team to have a fun experience that would
Improve communication,
Resolve conflicts and
Help you understand exactly what they need to get to the next level of leadership?
There is!  It's the John Maxwell Team Leadership Game.
In just two hours your team can connect, laugh, learn and solve hard problems together.
The John Maxwell Team Leadership Game is one of the strongest assessment and evaluation tools available.
The game is a fun, interactive, and edifying way to assess communication, address difficult topics, and identify strengths and weaknesses.
Through thought provoking questions, individual reflection, and ideological discussion, any group will understand one another more deeply in order to perform more effectively.
What people are saying
This forces us to talk about things we ordinarily would not talk about…and that is needed
And
A lot of these activities are silly and whatnot but It's good for communication – laughter, comedy, seriousness – it's communication on a deeper level. This is the best workshop I've participated in.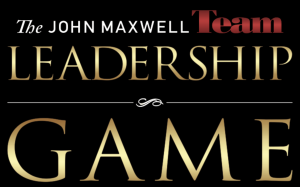 How much does it cost?
The question is this: what is it costing you today NOT to invest in team communication and teamwork?
The investment for the John Maxwell Leadership Game is $1200. (Discounts available for nonprofits.)
Schedule a quick call with Tom
How does it work?
We bring the team together for a 1.5-2 hour session in a conference room.
You email them a link to the video below.
I bring everything you need, facilitate a fun, interactive experience for the team, and deliver an assessment to the leader afterward.
This is a great tool for: Executive Boards, C-Teams, small businesses or large businesses.
It works with everything from non-profits to real estate offices to large manufacturing.
This will benefit any group of people working together on a common goal.
Ready to get started?
The next step is a quick call.  No obligation. No commitment. No hard sales pitch.
Schedule a quick call with Tom to pick a time that best works with your schedule,
or pick up the phone and give me a call right now!
Let's get this on the calendar in the next month or so.  You won't regret it!
Tom Cooper – 240-668-4799