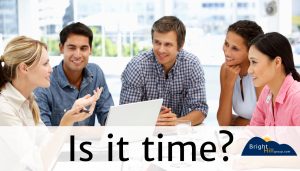 Time For What?
One of the most important tools ANY company/team can have is end of year strategic planning.
If you haven't planned YOUR event, your 2019 will be the same as 2018.
I love doing offsites with companies.
Let's talk.
Who Should Be There?
You and your key executive leaders and influencers.
I know you are all busy, but "activity does not equal accomplishment," and if they are not working on shared goals, you're probably leaving money on the table.
What Will You Get?
Your team will get away for 1-2 days and will follow a simple, proven process.
Custom designed for your team and for your specific needs
Everyone will leave the event with clear, measurable goals, and a personalized accountability plan.
A highly skilled professional facilitator to guide you and your team through the process
Why a Professional Facilitator Is Better Than Doing it Yourself
You'll set the goals, the agenda and tone for the event, but having me as a facilitator will help with
Setting and maintaining ground rules – CEOs or internal surrogates may find it challenging to manage those boundaries without stepping in politically sensitive areas – as an outsider, I can avoid that
Assigning and following up on pre-event and post-event homework – because I'm outside the "day to day" in your company, I can make sure that team members do their fair share and follow up on the commitments that they make.
Ensure that everyone participates – that's a key component of success – diverse input, communication and collaboration.  I can get everyone talking, and stop certain people from dominating the discussion.  (You know who we're talking about.)
Cultivating teamwork – I can plan activities and partner people together to get the process going
Keeping track of the output – I can make sure that we have clear and concise follow ups from the session
Why not let me handle these things for you and make your life easier?
How Much Does It Cost?
How much will it cost you to keep doing things the way you've been doing them?
How much more could you make next year if your leaders were focused on the highest value problems?
What factors affect the total cost?
Location: Your team will be offsite.  You'll need to budget for facility space outside your regular offices
Food: An offsite is driven by the quality and quantity of the food you provide.  This should include breakfast, lunch, snacks with drinks and coffee, and a team dinner in the evening.
Travel: If you have team members (or your facilitator) coming from outside your city, you'll need to budget for transportation and lodging.  I travel from Charlotte NC.
Facilitation and followup: You'll be paying for access to the facilitator, our process, our tailoring the process to your specific situation, and for the powerful followup accountability and coaching.
Additional activities: If you choose to add in "out of the box" components like ropes courses or other "team building" there will be additional costs.
Duration: The longer the event, the more we can accomplish, and the more it will cost.
Who organizes the facility and catering: If you want us to tackle that, we will be happy to provide you an all inclusive price for the event.
You'll want to budget at least $10,000 for the facilitation and coaching portion of the process, and more involved events will cost more.
Check out this introductory video for more info.