Multiply your impact as a Chick fil A Operator
Thinking partner, Leadership Growth, & Accountability
Introducing Operator Coaching
Is there even one thing that you KNOW you could do, that if you DID do it would help your restaurant?
Of course there is.
In fact, there are a ton of them – and doesn't it get overwhelming if you stop to think about that?
You know what to do – but will you do it?
Sometimes yes, sometimes no. And it's frustrating to make commitments and not follow through, right?
The challenge is that no matter how good your team is, no one will really hold you accountable – to call you out when you're dropping the ball.  They can't – and wouldn't it be great if there was someone who would do that?
Do you ever feel alone?
You've got other operators in your market, maybe even a mentor or two who has more experience that you talk to once in a while.
But the other operators in the market are super busy, and they also may not be ready to help with your stuff.
What if you had a scheduled time on your calendar to work on YOUR growth?
What if you had a time on your calendar where you'd be held accountable to follow through on the stuff you know you should do? (And that you know you really want to do.)
What if you had a thinking partner to help you flesh out your ideas, set priorities and create an action plan?
What if you had feedback that "keeps it real" and helps you grow?
Pick your best time for a quick call
A safe, supportive environment
One that helps you grow and holds you accountable toward your commitment to excellence
How it works:
As a certified coach and someone with decades of leadership and business experience, I'm available to help you on your journey.
This is an affordable program where we work together every two weeks to help you gain clarity about results, create a plan for moving forward – I hold you accountable to follow through and I'm available as a thinking partner to help you make your plans.
This is one price, unlimited access to the coach to help you when you need it.
We focus on identifying your core goals in one or more of the following areas: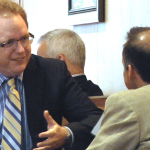 Personal Growth
Leadership Growth
Business Growth
Growing your team's Leadership
We clearly identify what success looks like, what is happening right now, and what is blocking your success.
With those in mind, we create action plans to tackle those things and help you achieve amazing goals.
How Much Does it Cost?
The monthly cost for this is based on your sales volume.
For revenues up to $4M, coaching packages are $250/month
For revenues of $4-6M, coaching packages are $500 month
For revenues of $6M+, coaching packages are $750/month
Ready to "try before you buy?  Let's talk!
Pick a time for a no cost, no obligation session where you can experience this.
If it's valuable, we talk about next steps. If not, we part as friends. Fair enough?
Pick your best time for a quick call