You became a highly technical expert. You found that your expertise was critical to your success. The geekier you got, the more you got paid.
And then it happened.
One day your boss came to you and said
"You've been doing a great job.  I need you to be the technical lead over these young geeks."
You replied:
"Wait – we have a deal – I get smarter about my chosen field, and you pay me more!  Don't go changing the rules now!"
But it was too late.  Now what?  You're supposed to figure out the people stuff?
It turns out that leading people is VERY different from technical expertise.  Neil DeGrasse Tyson said
When human behavior enters the equation, things go nonlinear.  That's why physics is easy and sociology is hard.
And he's exactly right.  But there is hope.  I started my career as a geek – a hands on technologist who bought my fist computer with money I saved up on my paper route.  I worked in startups and in Fortune 500 companies – and I learned the secrets to being able to lead people – as a geek, leading geeks.
You can learn it, too.
Here are the four levels of thinking you need to develop in order to become a great geek leader:
Individual

Perspective: I perform with excellence
I need more than great geek skills to succeed. I need to lead myself – would I follow me? In addition to my technical talent, I know that I need to learn about business, and about how to work with others.

Team Member

Perspective: The team performs with excellence
One is too small a number to achieve greatness. I need team members to want to help me so that together we can deliver bigger, more important work than I could do by myself. My influence comes from relationships, not formal power.

Team Leader

Perspective: I grow a team of great performers
As "the boss" of a team, I need to help my team members grow in their ability to lead so that our team can create even more capacity – and further increase our impact as a team. We perform together, and I become a better leader as they become good followers. My influence is from permission, not position.

Team Builder

Perspective: I think about succession – developing other leaders
As a leader, I need to equip the leaders who work for me to build their own teams – to become team leaders who develop other team leaders – moving from creating followers to creating other leaders. My influence is from investment in others, not from title or role.
What level is your thinking today?
What level do you need to reach tomorrow?
Want to grow? Check out my Podcast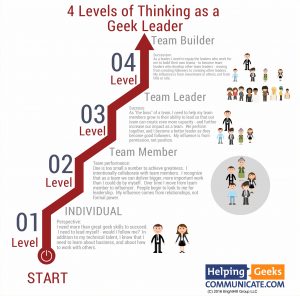 Podcast reviews on iTunes