This last week I've been on a roadtrip with my family to visit my wife's aunt and uncle in breathtaking southeastern Colorado.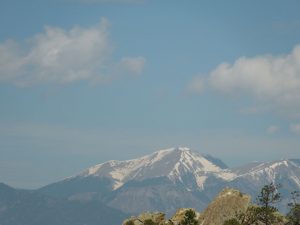 One night I was walking around in the back yard and got my introduction to the local spring mud.
This stuff is THICK. The soles of my shoes were literally covered with about 2 inches of mud.
After leaving them on the front porch overnight it took a combination of beating them together, scrubbing with a scrub brush, and finally walking through tons of sand to clean the muck out of the crevices.
The Adventure Begins
One of the things my wife wanted to do while we were in this incredible part of our nation was get a view from high on a snow capped mountain peak. As we were planning our outings, we decided to visit the Great Sand Dunes national park.
As I looked at the map, there were 2 possible routes:
104 miles around the mountain on main roads.
30 miles passing directly over the summit of the mountain.
I chose option 2. This would be a major score – a fun run over the mountaintop to a beautiful place.
We struck out across the "county roads." Here in Colorado these are gravel roads stretching for miles across the valleys. We navigated these unmarked roads, leveraging Google Maps. We found our way across our shortcut to the paved road. Bouyed by that positive experience, we happily turned off the paved road onto another county road headed toward the mountain top.
A Bad Decision?
A short way on this second set of rural roads we encountered some of that Colorado spring mud I mentioned above. The van slid through the sloppy stuff into the deep tire track ruts. As we plowed our way through the sticky mud, the Sprinter van's traction control light flashed wildly on the dash as the on board computer worked madly to help the rear wheels find some grip.
I've driven enough in snow to know that you're going to be in deep trouble if the vehicle comes to a complete stop going up hill.
No matter how hard I mashed the accelerator to the floor, the van's computer and transmission overrode my commands in the hopes of not spinning the wheels.
I could feel the van slowing down, and I was getting nervous. Occasionally we would lurch forward a bit as we gained traction only to be shoved into the deep, adhesive mud.
My stress level increased as I could feel Holly's anxiety increasing. I'm blessed with a wife who generally worries little and loves adventure. When she starts to get nervous, I know I'm in trouble.
As a guy, I want to be adequate – I want to be able to solve problems. I really wanted to please Hollly, and I had DECIDED to go this way, so my pride was on the line, too.
The van's pace slowed more and more as we progressed up the hill. Inch by inch, we made it through the worst of it.
I felt a deep sense of relief as I watched the color of the road surface change from dark brown to a lighter tan as the dirt contained less and less water. Finally we hit dry enough dirt to shake some mud off the tires and proceed.
My anxiety level dropped a bit until Holly suggested
"Tom, maybe this is a bad idea. I wonder if we might get stuck here on this road…"
In my heart, I knew she was right. If I was willing to be honest with myself, I wanted to turn around – but have I mentioned that these roads are REALLY narrow? I just didn't see any way I'd be able to turn the van around, and based on what just happened, I was terrified that I'd get stuck blocking the road. In addition, my pride was at stake, and I couldn't admit defeat.
I defensively snapped back at Holly
"Look, we made it this far. There's no way to turn around here, and I bet it's going to dry out as we get further up the mountain."
She didn't like the idea and she didn't like my response. The stress level went up – for both of us.
We kept going a few more miles – realizing just how remote this road really was – winding through the valleys and climbing higher up the mountain. The views were beautiful, and Holly said
"Gee, I bet no one uses this road at all." Not very comforting.
About the time we passed the reservoir we hit another long slog of mud. I sped up to get a running start and the van jerked to a crawl as we dropped into the ruts in the road. Again the van's traction control light flashed madly. This time, I completely lost control of my steering – no matter what direction I pointed the wheels, I was powerless to move the van left or right.
The van gradually slowed. Holly said
"Tom, are you slowing down on purpose?"
My adrenaline level peaked, my stress level hit 100% and I was scared. What had I done?
"OF COURSE I'M NOT SLOWING DOWN ON PURPOSE!"
Eventually, predictably the van stopped moving forward. I tried backing downhill a bit only to slide uncontrollably into the ditch on the side of the road. There was no question – this was it. I was not going to be able to get myself out of this one.
My wife and 7 kids were in the middle of NOWHERE because of my choices. As far as I could tell, we were about to be stranded, and it was all my fault. Worse than that, I was powerless to "fix it."
Cell phones don't work this far away from civilization. There was no good place to walk along this road – and the thought of leaving Holly and the kids while I walked miles to a stranger's house to beg for help was NOT appealing.
I got out of the van to survey the damage. I was stuck. No doubt about it. NOW what was I going to do? I was going to have to admit I was wrong – admit it to myself and (more painfully) I would have to admit it to Holly.
What Are My Key Learnings From This?
It's a good idea to do some research before using a VERY remote road.
When my wife offers input on rethinking a decision, I probably need to go along with her plan.
My pride is less important than I think it is. Holly (and the kids) already knew I'd blown it – and I'd probably have been better off to "cut my losses." It's valuable for them to know that *I* know I've dropped the ball
I'm naturally optimistic – and sometimes I bite off more than I can chew.
I needed to apologize to Holly for snapping at her. My stress is no excuse to be rude to her.
So What Happened NEXT?
Thankfully, a few minutes after we got completely stuck, a group of off-road enthusiasts came by and offered to help us.
They generously hooked up a chain to the eye bolt I screwed into the tow point on the front of the van, and then the nice guy in the lifted Dodge 4×4 pulled Big Blue (our Sprinter) through the muck to the top of the hill to the ONLY decent turnaround I'd seen on the whole trip.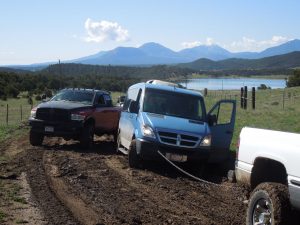 As I was getting towed out of my predicament, one of the folks helping informed me that the spring muds on that road get MUCH worse than that as you get closer to the summit, and there are 8 river crossings between where I was and the dunes. Some of the river crossings are 30″ (or more) deep!
(Perhaps #6 on my list above should be "don't competely trust Google maps for navigation!")
Thankfully we were able to slide our way downhill through the slimy sticky mud and back to the paved roads. We returned to our home base for a bathroom break, and then headed out "the long way" to the Great Sand Dunes.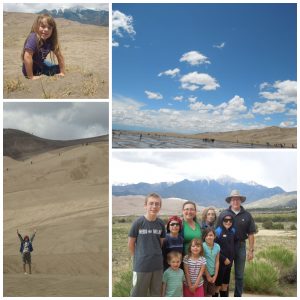 The day was salvaged, and I'm glad to have picked up a few things from my experience.
Let Me Ask You
Have you ever been in a place where you made a judgment call that turned out to be wrong and it left others hanging?
Have you let your pride hang you out to dry?
What did you do about it?