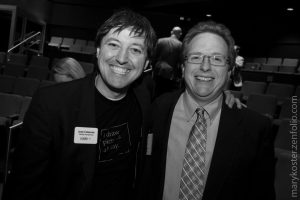 In this CEO Essentials Podcast, I connect with Joey Coleman  of Design Symphony.
We talk about how connecting with customers in a REMARKABLE way leads to bigger margins
How to set your company apart from the other dozen companies "just like yours"
How to "walk in your customers' shoes"
Specific tips on creative thinking –  leading to raving fans – and to your ideas going viral

We've pulled the essentials from our discussion with Joey – key tips to move from idea to action.
Download the First 100 Days Tip Sheet
About Joey:
Joey Coleman is the Chief Experience Composer at Design Symphony – a customer experience branding firm that specializes in creating unique, attention-grabbing customer experiences.  His clients include individual entrepreneurs, start-ups, small businesses, non-profits, government entities, and Fortune 500 companies.  For over a decade he's worked with clients that include NASA, Network for Good, Hyatt Hotels, Zappos, the Save Darfur Coalition, and the World Bank – not to mention dozens of regional and local organizations around the world.
Joey is a recognized expert in customer experience design, an award-winning speaker at national and international conferences, and has taught business and creativity courses at both the college and graduate school level.  Past appearances include presentations at the M.I.T. Sloan School of Management, Google, the Georgetown University School of Business, Stanford University, Zappos, YouTube, and numerous undergraduate, private corporation, and non-profit events.
Joey's design palette and sense of adventure is augmented by travels to over 44 countries on six continents.  He has jumped out of a perfectly functioning airplane, raced along the Great Wall of China, juggled in front of the Taj Mahal, sang love songs on the Ponte Vecchio, goose-stepped to mock the soldiers in Red Square, and ridden a mountain bike down a volcano – although it remains a debate as to whether he rode the bike or the volcano rode him!